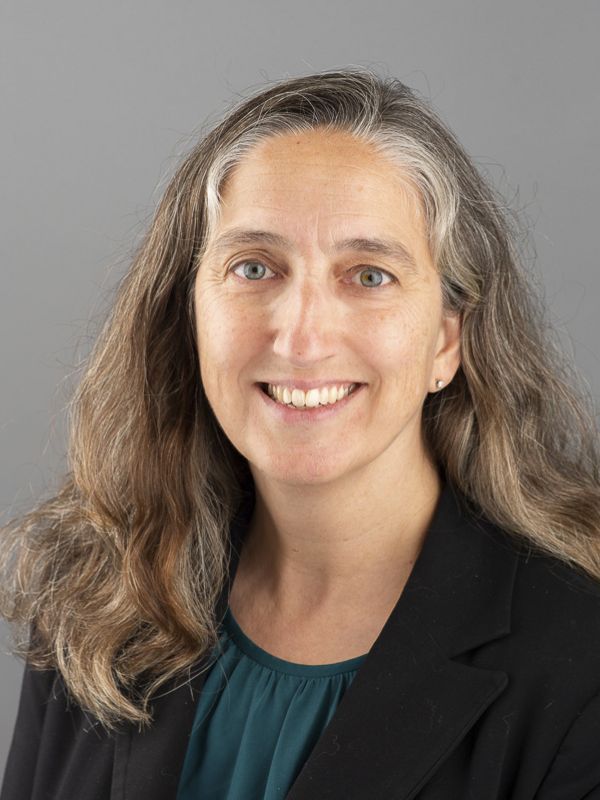 Associate Dean for Academic Affairs and Experiential Learning
Professor of Law, Legal Practice
"Nothing makes me happier than when I hear from a student or recent graduate who has found her or his niche in the legal community and is out using the skills they learned in my classes to solve legal problems. I love that as a professor I get to have a role in supporting people at a critical juncture in their professional, and often personal, journey to a satisfying career."
News: Mary-Beth Moylan was interviewed on Capital Public Radio's Insight program on Oct. 23, 2018, about the 2018 ballot measures.
Associate Dean Mary-Beth Moylan is the Associate Dean for Academic Affairs and Experiential Learning and a Professor of Lawyering Skills. She was a founder of the Global Lawyering Skills ("GLS") program at McGeorge. GLS is a nationally recognized, required two-year skills program that introduces students to a broad range of core lawyering skills that include, legal research, writing, and oral advocacy, as well as client interviewing, client counseling, negotiation, and drafting. Associate Dean Moylan is also the co-author of Global Lawyering Skills (West 2013) and Global Lawyering Skills: Second Edition (West 2018), a legal skills textbook that is unique in the market for its focus on cross-border and cross-cultural considerations in lawyering skills and practice. In addition to her experiences in the GLS program, Associate Dean Moylan has been engaged with McGeorge's Clinics, Externships, and Pro Bono work. She also has been involved with the Advocacy and Dispute Resolution Center and the Capital Center for Law and Policy. In addition to these areas of interest, she teaches Civil Procedure.
Associate Dean Moylan has a long-standing passion for and expertise in politics and government. Since 2003, she has supervised the publication of the California Initiative Review, an online journal providing objective and neutral analysis of each statewide ballot proposition. The California Initiative Review is published in advance of every California statewide general election. Associate Dean Moylan and her students also hold a public forum for explanation and discussion of the statewide ballot propositions, and Associate Dean Moylan regularly provides a summary of the propositions to Capital Public Radio's Insight program in advance of each general election. Her expertise in politics and government is not limited to the initiative process, and Associate Dean Moylan is often looked to by local news media for expert advice on state constitutional issues, conflicts of interest, and other election related topics. She was chairperson of the inaugural Sacramento Ethics Commission in 2018.
Associate Dean Moylan is also an expert in legal skills education. She was President of the highly respected and influential Association of Legal Writing Directors (ALWD) in 2014-2015, and she regularly presents at conferences. In May 2018, she was a panelist for ALWD's first Leadership Academy and she presented at the ALWD conference in Boston, Massachusetts. In 2016, she presented on a mediation panel at the Global Legal Skills Conference in Verona, Italy, and the Legal Writing Institute Conference in Portland, Oregon. During her tenure as GLS director, McGeorge has hosted the ALWD Conference (2011) and the Western Regional Legal Writing Conference (2016). She continues to serve on ALWD's ABA Task Force, and as an advisor to its ALWD Guide Committee.
Although Associate Dean Moylan was raised in New England, and attended college and law school in the Midwest, she launched her legal career in Sacramento as a law clerk for the Honorable Lawrence K. Karlton of the United States District Court for the Eastern District of California. She then practiced election law with Olson, Hagel, & Fishburn, and general civil litigation with Downey Brand LLP, both highly regarded Sacramento-based law firms. She maintains her connections to the Sacramento legal community and keeps abreast on changes to legal practice through her involvement with the Anthony M. Kennedy American Inn of Court. The Kennedy Inn brings together judges, lawyers, and law students to promote ethics, civility, and professionalism in the practice of law. Associate Dean Moylan is a member of the executive committee of the Kennedy Inn, and she ensures that student members of the Inn are active participants in this organization.
Education
BA, Oberlin College
JD, Case Western Reserve University
Research Focus
Representative Scholarship and Activities
Global Lawyering Skills, (West 2013) co-authored with Stephanie Thompson and the Global Lawyering Skills faculty.
Sovereign Rules of the Game: Requiring Campaign Finance Disclosure in the Face of Tribal Sovereign Immunity, B. U. Pub. Int. L.J. (2011).
Enduring Hope? A Study of Looping in Law School, 48 Duq. L. Rev. 455 (2010) (with Stephanie Thompson).
Practicing Persuasive Written and Oral Advocacy, Case File (with David W. Miller & George C. Harris, Aspen 2009).
Clemency in Capital Cases in California, 14 Berkeley J. of Crim. L. 37 (2009) (with Linda E. Carter).
Citizens Against Rent Control v. Berkeley, in Encyclopedia of the First Amendment (John Vile et al. eds., CQ 2008).
Mary-Beth Moylan, Something for Everyone? The Future of Comprehensive Criminal Justice Initiatives After Senate v. Jones and Manduley v. Superior Court, 33 McGeorge Law Review 779 (Summer 2002)
Central California Appellate Program
Presentation: Several streaming presentations for CCAP staff attorney training on Brief Writing and Oral Advocacy in Appellate Courts, 2006
Women Lawyers of Sacramento
Presentation: Appellate Practice, 2006
USAID Rule of Law Program Summer Workshop, Guangzhou, China, Presentation: Teaching Written and Oral Advocacy to Chinese law teachers, Summer 2007