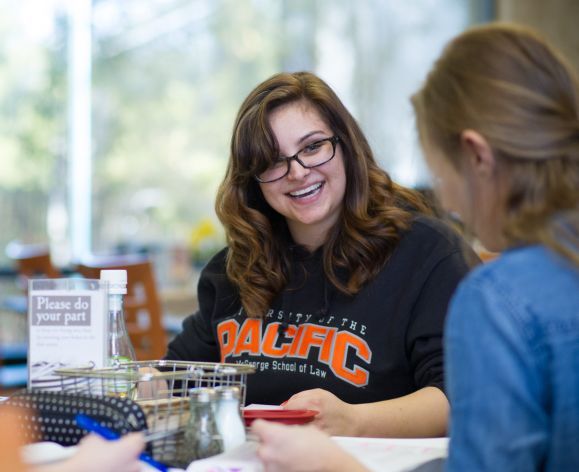 Application Deadlines
The priority deadline to submit your application for fall 2023 is Feb. 1 and the final deadline is June 1. The last LSAT we will accept for the 2023 application cycle is the June 2023 exam.
The admissions committee admits applicants on a rolling basis; therefore, we encourage all applicants to submit their application early.
How to apply
All applications must be completed through the Law School Admission Council (LSAC). Please note that McGeorge does not accept hardcopy applications. The application should be complete when submitted.
You will need the following to complete your application:
A completed application form
Personal statement
Resume
Two (2) letters of recommendation submitted through your LSAC CAS account. (Up to three letters will be accepted)
Bachelor's degree
CAS report with letters of recommendation, all undergraduate transcripts, LSAT score and LSAC Writing Sample
Email address (this is the primary form of communication from the law school)
Personal Statement
The statement must be no more than three pages, double-spaced, 12 pt. font. An applicant's personal statement is an opportunity to provide information that the applicant believes should be considered. Please choose one of the following two prompts, and place the prompt at the top of the statement:
Why are you interested in attending McGeorge School of Law?
Tell us about a person or event that impacted/influenced your life.
If an applicant wishes to address their grades, academic disqualifications, etc. they may do so by addressing these circumstances in a separate addendum.
Resume
Provide a Resume of full-time employment and other activities, starting with the most recent. Include dates, name(s) of employer(s), and position(s) held. List the hours worked per week and academic honors received since entering college. List extracurricular activities, hobbies and community service. Describe the nature and extent of employment during college and include volunteer work. Please include summers. Explain any periods of time after high school not accounted for by the preceding educational and employment history. However, all other high school information should be omitted.
Letters of Recommendation
In support of the application, applicants must submit two letters of recommendation directly to LSAC; we will accept a maximum of three letters. Applicants are strongly encouraged to reach out to their college professors and administrators who have had the opportunity to assess their academic, time management, research and analytical skills to write on their behalf.
Applicants who have been out of school for a considerable amount of time can submit letters of recommendation from employers, business colleagues, and mentors. Letters from family members and close personal friends are discouraged. These letters should address skills relevant to your potential success in law school.
Please note that LSAC will not release an applicant's CAS report to McGeorge until they have received a minimum of two letters of recommendation. Furthermore, the application will remain incomplete and will not be reviewed until the applicant's file is complete.
Credential Assembly Service (CAS) and LSAT
Applicants must register with LSAC for the Law School Admission Test (LSAT) and LSAC's Credential Assembly Services (CAS). Transcripts of prior college and university coursework must be furnished directly to LSAC. LSAT scores must be from administrations within five years prior to the year of enrollment. An application file is not complete and will not be reviewed until an applicant's law school report, including an LSAT score, has been received. (Applicants whose undergraduate degrees are not from educational institutions within the United States, its territories or Canada must use LSAC's Credential Assembly Service for international document authentication and evaluation.)
Applications will not be considered for final action until all required information has been received.
McGeorge School of Law maintains a long-standing policy of not discriminating in any of its activities on the basis of race, gender, sexual orientation, national or ethnic origin, disability, marital status, age, color or religious belief.
Transcripts
All transcripts for college and graduate work must be submitted directly to LSAC. LSAC will evaluate each transcript and forward a report to each law school the applicant designates.
If an applicant matriculated at another law school, a letter of good standing from that school is required. Additionally, if an applicant sat for an examination at that school, a transcript from that law school must also be submitted directly to LSAC.
Please note an official transcript with degree posted is required to be submitted directly to the McGeorge JD Admissions Office before the first day of orientation for all students who enroll. 
Optional Essays: Diversity, Adversity Statements and Addenda
As part of the application for admission we will accept additional supplementary materials, including adversity statements, diversity statements, and/or addenda.
An adversity or diversity statement should highlight something(s) unique about you that is not reflected within the standard application materials. These statements should add additional perspective for the committee as they review your application and should be double-spaced in 12-point font. If the personal statement is about who you are, the adversity/diversity statement should be about how your background shaped you. It is usually about your culture (ethnicity, religion, shared interests, an adversity you have faced and overcome, etc.), but it can be about any aspect of your background that will show the admission committee how you will add a diverse perspective to the classroom conversation.
Addenda should be used to elaborate on pieces of your application that warrant more space or attention. They are meant to provide a brief explanation of any anomalies in your application. Ask yourself this question to determine if you need an addendum: "Is there anything I am concerned will prompt questions from the admissions committee?" If the answer is yes, you should provide a succinct answer. As this is not an essay, this should be no more than a paragraph or two. The tone of the addendum should be objective; while emotion and personality are welcome in your essays, your addendum should be a statement or explanation.
 
Additional Application Requirements for Foreign Applicants
Test of English as a Foreign Language (TOEFL)
An applicant who did not complete their bachelor's degree from an English-language college or university, and for whom English is not their primary language is required to take the TOEFL. This requirement also applies to recent immigrants who have completed their education outside of the United States where English was not the language of instruction.
A minimum score of 600 for the paper-based test, 250 for the computer-based test, or 100 for the internet-based exam is required. Please note that acceptable scores must come directly from TOEFL and be submitted to LSAC. For additional information on TOEFL, visit http://www.ets.org/toefl.
Transcripts (International)
McGeorge requires that foreign transcripts be submitted directly to LSAC Credential Service which is included in the CAS subscription fee. A foreign credential evaluation will be finalized by the American Association of Collegiate Registrars and Admissions Officers (AACRO) and will be integrated into your CAS report.
Student Visa
Once an international applicant is admitted to the law school and has paid their first seat deposit, the Director of Graduate and International Programs will contact the student to obtain an I-20 application form, certification of finance, a notarized copy of their birth certificate, passport, and when applicable, marriage license. Once all of these items are received, the Director of Graduate and International Programs will process the student's SEVIS I-20. An I-20 form is one part of the requirement for an applicant to obtain a student visa.
Online Status
Once an applicant submits their application, they can check the status online through the Application Status Online. Login information for the Applicant Status Online is emailed to applicants when the application is submitted to the law school. The admissions committee will review files in the order that they were completed. Our admissions committee is devoted to reviewing each file in a holistic manner. Please allow four-to-12 weeks to receive an admission decision. Offers of admission will be sent via U.S. mail. Other admission decisions will be sent via email. Changes to an applicant's email or mailing address should be communicated to the Office of Admission immediately.
 
Other Applicants
Non-Discrimination Policy
The McGeorge School of Law, University of the Pacific, in compliance with Titles VI and VII of the Civil Rights Act of 1964, Title IX of the Educational Amendments of 1972 (45 CFR 86), and Sections 503 and 504 of the Rehabilitation Act of 1973, and the Americans with Disabilities Act of 1990, does not discriminate in the administration of any of its educational programs, admissions, scholarships, loans, or other activities or programs on the basis of race, gender (identity and/or performance), sexual orientation or preference, national or ethnic origin, color, disability, marital status, age, or religious belief.
Inquiries regarding compliance with these statutes and regulations may be directed to the Office of the Dean, 3200 Fifth Ave., Sacramento, California 95817, 916.739.7151, or to the U.S. Department of Education, Office for Civil Rights, in San Francisco or Washington, D.C. Student records: Inquiries about the School's compliance with student access and privacy rights regarding educational records, under the Family Educational Rights and Privacy Act of 1974, may be directed to the Office of the Dean or to the Student and Family Educational Rights and Privacy office, U.S. Department of Education, Washington, D.C.
Questions?
JD Admissions
Phone: 916.739.7105
Fax: 916.739.7301
Email: mcgeorge@pacific.edu
Hours: Monday through Friday from 8:30 a.m. to 5:30 p.m.
3200 Fifth Ave., Sacramento, CA 95817